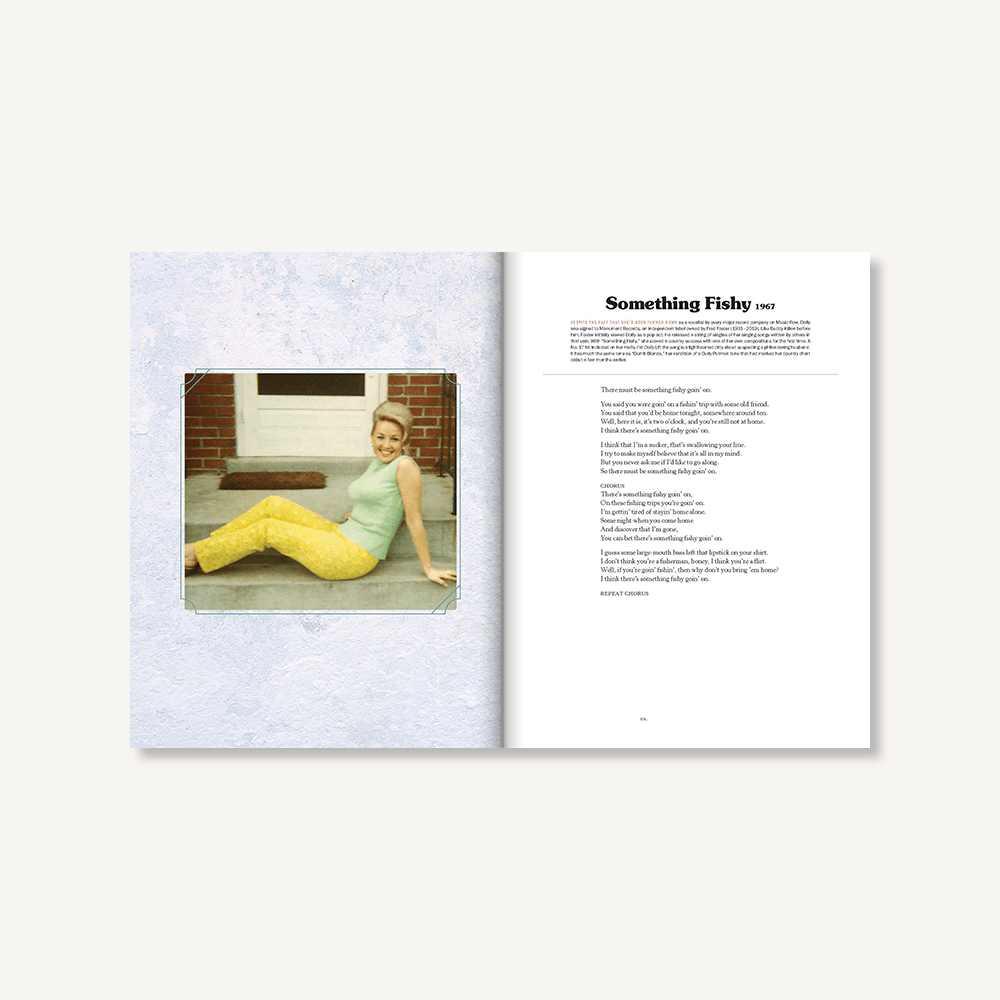 The famous Jolene, the familiar tale of 9-5, and the romantic tune of Islands In The Stream - all songs everyone can happily sing along to and brought to us by the stunning Dolly Parton. To know her is truly to love her.

"Dolly Parton, Songteller: My Life in Lyrics" is a landmark celebration of the remarkable life and career of a country music and pop culture legend. As told by Dolly Parton in her own inimitable words, explore the songs that have defined her journey. Illustrated throughout with previously unpublished images from Dolly Parton's personal and business archives. Mining over 60 years of songwriting, Dolly Parton highlights 175 of her songs and brings readers behind the lyrics.

This lavish scrapbook is a great gift for any Dolly lover. It is beautiful on both coffee tables and bookshelves and brings a little bit of Dolly right into your home.

ISBN: 9781797205090
FORMAT: HARDCOVER
SIZE: 9 X 12
PAGES: 368
PUBLICATION DATE: 11/17/2020
Dolly Parton, Songteller
- Take care of a favorite book by treating it carefully and storing it responsibly.
- Don't touch your book with dirty hands or read it while eating or drinking.
- Store your book in a cool and dry atmosphere, away from heat sources.
- Dust your book regularly.
Robert K. Oermann is a Nashville-based music journalist who is considered the unofficial historian of Nashville's musical heritage. He has written several books on country music, including Finding Her Voice: The Saga of Women in Country Music, which won the ASCAP Deems Taylor Award for music book excellence. He lives with his wife in Nashville, Tennessee.

Dolly Parton is the most honored and revered female country singer-songwriter of all time. Achieving 25 RIAA-certified gold, platinum, and multi-platinum awards, she has had 26 songs reach #1 on the Billboard country charts, a record for a female artist. Parton recently became the first country artist honored as Grammy MusiCares Person of the Year given out by NARAS. She has 41 career Top 10 country albums, a record for any artist, and 110 career-charted singles over the past 40 years. In 2014, the RIAA recognized her impact on recorded music with a plaque commemorating more than 100 million units sold worldwide. Her 2016 #1 album, Pure & Simple, which topped the Billboard Top Country Albums and Americana/Folk Albums charts and debuted at No. 1 in the U.S., Canada, U.K. and Australia, added to that massive tally. She has garnered ten Grammy Awards and 49 nominations, including the Lifetime Achievement Award and a 2020 win with for KING & COUNTRY for their collaboration on God Only Knows ; 10 Country Music Association Awards, including Entertainer of the Year; five Academy of Country Music Awards, also including a nod for Entertainer of the Year; four People?s Choice Awards; and three American Music Awards. In 1999, Parton was inducted as a member of the coveted Country Music Hall of Fame. Parton has donated over 130 million books to children around the world with her Imagination Library. Her children's book, Coat of Many Colors, was dedicated to the Library of Congress to honor the Imagination Library's 100 millionth book donation. From her Coat of Many Colors while working 9-to-5, no dream is too big and no mountain too high for the country girl who turned the world into her stage.