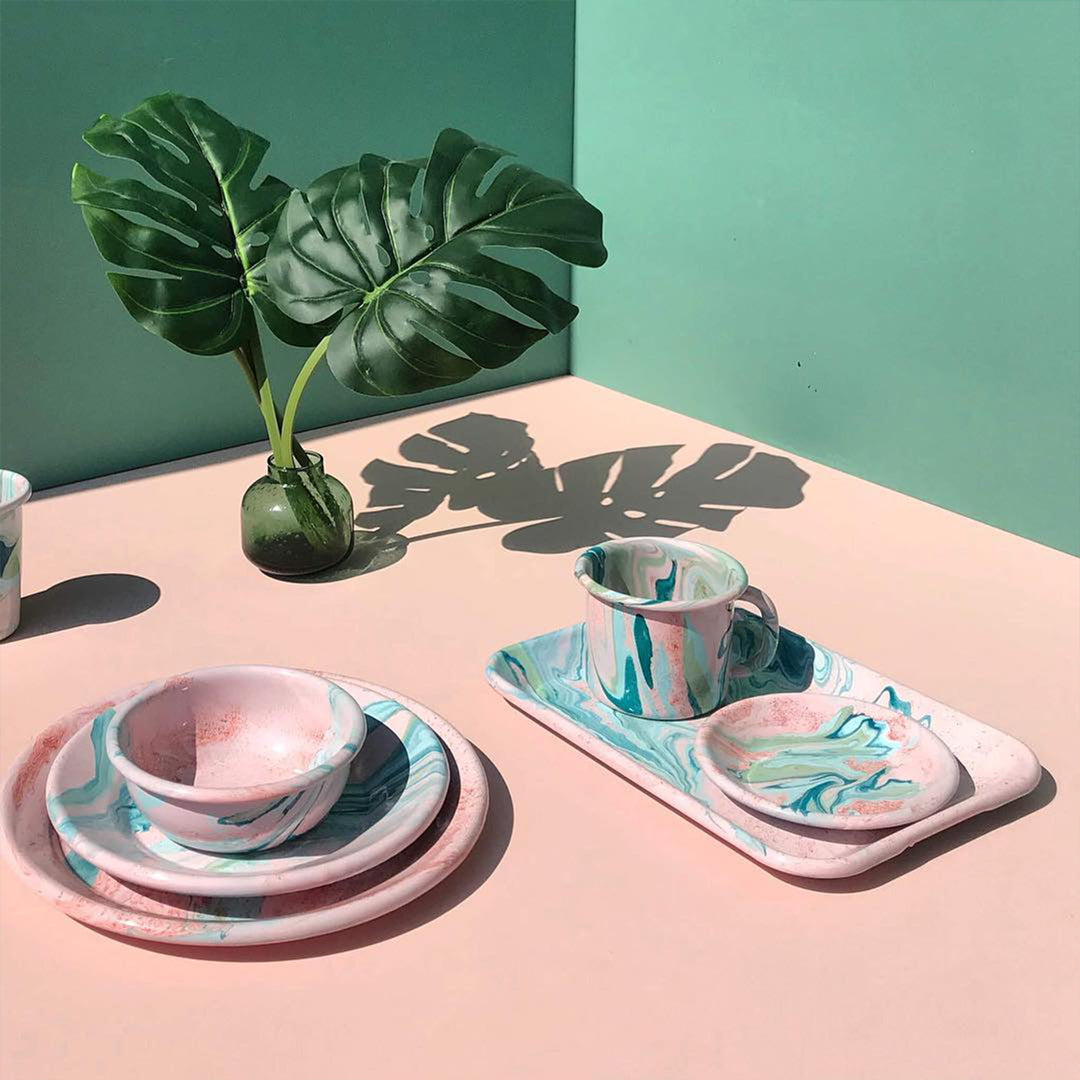 Diving into the deep, cool ocean, stunning aerial views of a growing forest, or candy shop views from the eyes of young children - each style of these New Marble Bowls takes you on an epic adventure. Reminding you with each meal to explore your creativity and imagination, never letting that youthful mind escape you.
The Multi Swirl Enamel Bowl is a luxurious enamelware accent for your home. Display fruit, mid-day snacks, or treasures found throughout the day in these bowls created to be the center of attention. Every piece in this collection is handmade to create a completely one-of-a-kind addition to your home. These bowls are offered in the colors Blush, Cobalt, and Mint. 
Each piece of Bornn enamelware is created using techniques that date back to the 15th century. Bornn puts so much thought and care into each of their pieces to leave you with an incredibly durable and long-lasting serving dish to last on this earth for years to come. These bowls are dishwasher, oven, and freezer safe. They also hold up well in little hands and can handle even the toughest of spills and drops.
Let's go on an adventure. Your imagination will thank you.
Material: Enamel
Dimensions: 5.25" w x 2" h
12oz.

- 100% food safe and great for cooking
- 100% recyclable, natural raw materials with non-toxic paints
- Each product is handcrafted by artisans
- Can be used outdoors in picnics, on the beach, at the camp or anywhere you'd like
- Enameled iron is incredibly strong, but the porcelain topcoat will chip if handled too roughly or dropped onto hard surfaces — revealing the metal frame underneath. When this happens the steel below naturally oxidizes and the enamelware remains safe to use.
- Can be washed in the dishwasher without harm to color or design. Detergents and stain removers may be quick and convenient, but over time they will reduce the luster and shine of your enamel pieces.
- Can be put in the freezer or oven up to 250 °C without damaging the coating or design.
- Perfect for induction cooker, gas or electric stove, in the oven or the bonfire
- Heats up quickly and keeps warmth
- Keeps cold drinks and food cold.
- Tea, coffee, and some foods may stain the enamel but this is natural.
Be Careful!
- Never use in microwaves!
- Do not touch when hot!
- Never use steel wool or abrasive brushes to clean your enamelware.
- Avoid using harsh chemicals.
- Extreme temperature changes can cause damage so allow your product to return to room temperature first before heating, cooling, or washing.
Bornn was founded in 2015 by two sisters Basak Onay and Oyku Thurston who both have backgrounds in creative industries. When they were global nomads growing up in Tokyo, Barcelona, and Los Angeles away from their hometown of Istanbul, they were exposed to different cultures and craftsmanship, which aspired them to create their own company that brings together years of developed skills and local heritage.