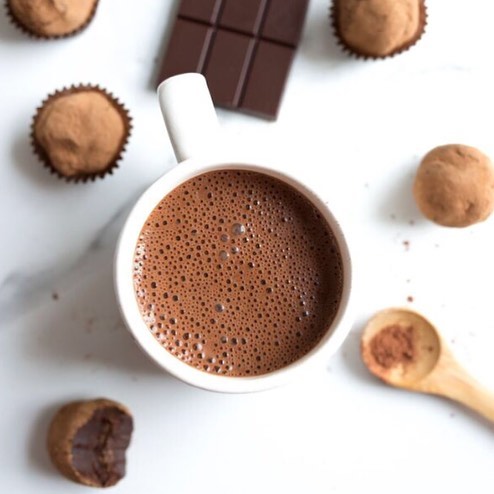 Every great meal deserves a finale and this luxurious drinking chocolate is the ultimate show stopper. In fact, it's reasonable to say that this is the best drinking chocolate ever. Break this out after a meal with great friends to share a dessert that's truly one-of-a-kind.

Zimt Chocolates was founded to create amazing vegan chocolates that not only taste great but also provide an eco-friendly source of cacao. Simply blend with your favorite vegan milk, pour into a large glass, and enjoy! Pair this creamy drinkable dessert alongside vegan ice cream, with fruit, or enjoy by itself. You'll enjoy every single sip.

Created in 2011, Zimt has been providing us with premium vegan, eco-friendly, and fair-trade chocolate. Each chocolate item is wrapped in compostable packaging so you can indulge completely guilt-free. Their goal is to do as little harm as possible and do as much good as possible, all while providing us with tasty treats!

Ingredients: Coconut sugar**, cacao paste*, cocoa powder**
*raw, vegan, organic, ethically sourced
 vegan
**vegan, organic, ethically sourced
Makes enough for 6 servings. 
 
Allergen Information: Made in a vegan facility! We use nuts, peanuts, coconuts, sesame, and gluten. May contain traces of these ingredients, as well as maple sugar and vanilla bean.
Just follow the wise instructions and use a very rich plant-based milk- half almond and half full-fat coconut milk are just about perfect. Whisk in a pot over the stove or blend in a high-speed blender until the desired temperature is reached and until all the drinking powder is melted and smooth.

You will need 3 Tablespoons of drinking chocolate mix for every 1 cup of vegan milk. Reduce the amount of milk for a thicker, richer hot chocolate (though it is pretty rich as is).

Zimt Chocolates was founded in 2011 by Emma Smith, as an extension of her personal appreciation for delicious vegan food, which may just change the world. Zimt creates organic, vegan, coconut sugar sweetened chocolate and confections which have made happy taste buds far and wide. Zimt Chocolates has prioritized compostable packaging from day one- back when plant-based cellulose bags were not readily available to fit her chocolate bars, Emma's Oma hand sealed and cut larger ones down to size.

Ten years later, their mission is the same- to create delicious products, and to generate sales to support those who are most vulnerable. There is a whole planet out there, with a world of animals (human and non-human) who need our help. Zimt Chocolates is committed to growing and creating a positive change. (And sometimes, that still looks like a lot of unglamorous work- they do what it takes!)