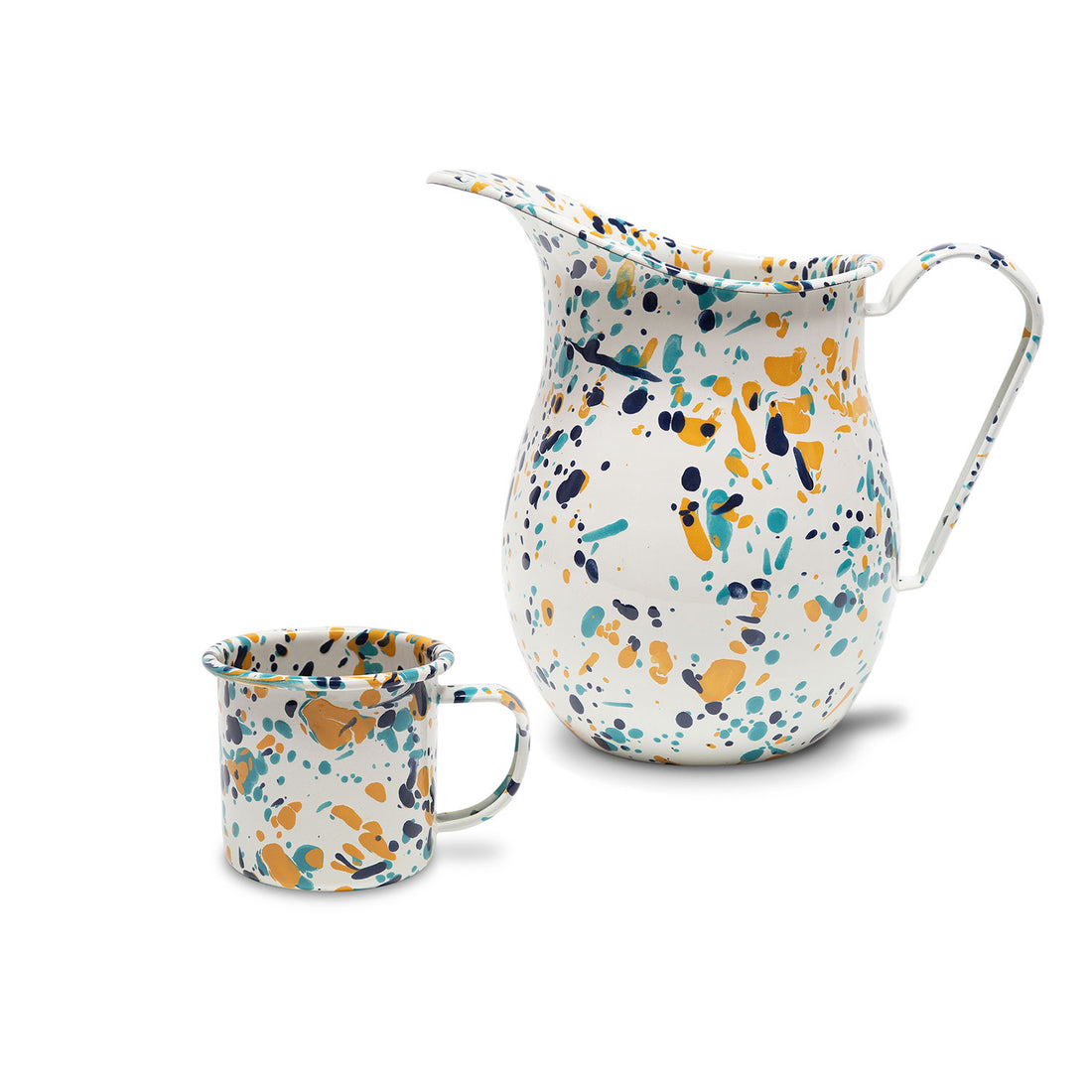 Each morning as you reach for this favored tea or coffee mug, you'll be reminded of the purpose behind slow and sustainable design. Slow Design focuses on the process, puts thought into the origin and materials while valuing the environment and the individual. 
Because good design is strong and functional. Good design is beautiful and delicate. Good design makes you feel. 
These mugs from Crow Canyon are built to last and will be at the heart of your family memories for generations to come. Built strong to withstand drops and high oven heat, durable enough to be packed for camping trips, and beautifully designed to stand the test of time and rise above any trending style. 

The cool tones of the Blue Tides mug are a refreshing reminder to slow down and rejuvenate. The warmth of the Bermuda Buttercup mug will create a space for gratitude and recovery. 
Crow Canyon makes zero waste and long-lasting products. The impact we have on this planet boils down simply to the purchases that we make. Crow Canyon creates the dependable products that we have been craving. By purchasing quality goods from a company that cares, you are contributing to a healthy environment that we can all benefit from for years to come.
Materials: Enamel
Dimensions: 3.6 ⌀ x 9" Height - 12oz Capacity
Comes in two colors: Blue Tides and Bermuda Buttercup

- 100% food safe and great for cooking
- 100% recyclable, natural raw materials with non-toxic paints
- Each product is handcrafted by artisans
- Can be used outdoors in picnics, on the beach, at the camp or anywhere you'd like
- Enameled iron is incredibly strong, but the porcelain topcoat will chip if handled too roughly or dropped onto hard surfaces — revealing the metal frame underneath. When this happens the steel below naturally oxidizes and the enamelware remains safe to use.
- Can be washed in the dishwasher without harm to color or design. Detergents and stain removers may be quick and convenient, but over time they will reduce the luster and shine of your enamel pieces.
- Can be put in the freezer or oven up to 250 °C without damaging the coating or design.
- Perfect for induction cooker, gas or electric stove, in the oven or the bonfire
- Heats up quickly and keeps warmth
- Keeps cold drinks and food cold.
- Tea, coffee, and some foods may stain the enamel but this is natural.
Be Careful!
- Never use in microwaves!
- Do not touch when hot!
- Never use steel wool or abrasive brushes to clean your enamelware.
- Avoid using harsh chemicals.
- Extreme temperature changes can cause damage so allow your product to return to room temperature first before heating, cooling, or washing.
Owner Cara Barde, working alongside her own family at Northern California small business, is focused on creating stylish, versatile, and eco-friendly enamelware that connects generations.