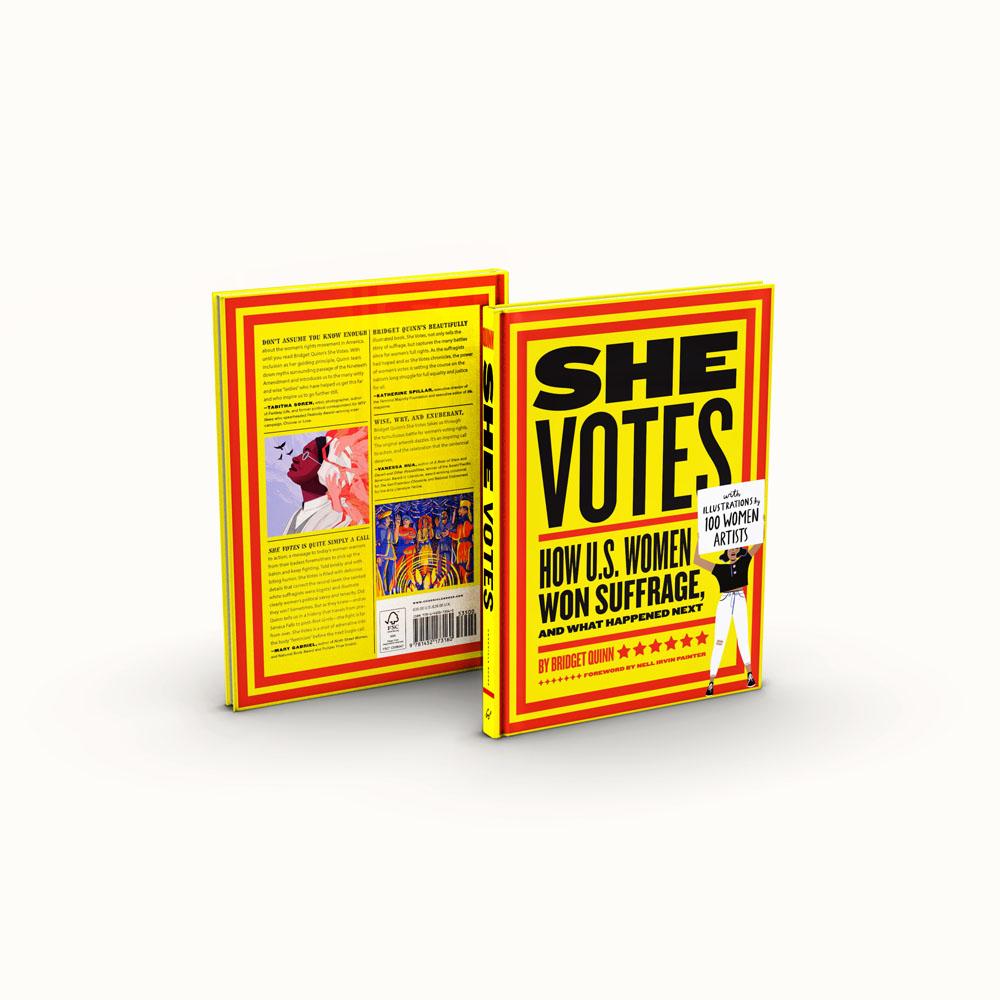 There is no better way to educate on tough subjects than using powerful art and soft humor. Storytelling has reached a new height with author Bridget Quinn and her report on women's suffrage and history.

'She Votes: How U.S. Women Won Suffrage, and What Happened Next' by Bridget Quinn, Foreword by Nell Irvin Painter is a quick and witty read with beautiful visuals to capture you through the process. 'She Votes' is an intersectional story of the women who won suffrage, and those who have continued to raise their voices for equality ever since. From the first female Principal Chief of the Cherokee Nation to the first woman to wear pants on the Senate floor, author Bridget Quinn shines a spotlight on the women who broke down barriers. This deluxe book also honors the 100th anniversary of the Nineteenth Amendment with illustrations by 100 women artists.

'She Votes' is the perfect gift for feminists of all ages and genders who want to learn more about the 19th amendment and the journey to equal representation. Not only is it incredibly insightful but it also holds powerful and striking art. It makes a great addition to any bookshelf or coffee table to inspire conversation or creativity. We still have a long way to go when it comes to women's rights but this book is a powerful reminder of how far we have come.
ISBN: 9781452173160
FORMAT: HARDCOVER
SIZE: 7 1/4 X 10
PAGES: 232
PUBLICATION DATE: 08/11/2020
- Take care of a favorite book by treating it carefully and storing it responsibly.
- Don't touch your book with dirty hands or read it while eating or drinking.
- Store your book in a cool and dry atmosphere, away from heat sources.
- Dust your book regularly.
Bridget Quinn is author of the award-winning Broad Strokes: 15 Women Who Made Art and Made History (in That Order), published by Chronicle Books in 2017. The book has been translated into four languages and selected for the Amelia Bloomer Book List of recommended feminist literature by the American Library Association. A graduate of New York University's Institute of Fine Arts and a regular contributor to online arts magazine Hyperallergic, Quinn is a sought-after speaker on women and art. She is an avid sports fan and Iron(wo)man triathlete, and her Narrative magazine essay At Swim, Two Girls was included in The Best American Sports Writing 2013. She lives in San Francisco with her family.