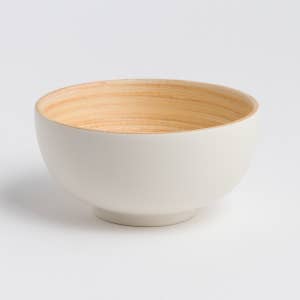 There is one thing that everyone around the world has in common - we celebrate with food! To bring food is a gesture of love. To gather around the table brings a sense of community. All milestones, achievements, and good news are deserving of gathering and celebrating together.

This small Bamboo Serving Bowl is created to do just that - celebrate! This handmade and food-safe serving bowl will be here to celebrate all the good times with you. Attached to the bowl will be memories and stories that will last for years to come. The Bibol Small Bowls are highly sustainable and provide a classy and chic design. They'll look elegant on your table no matter what design phase you are in. This generous and timeless salad bowl can contain salad, pasta, or any type of dish. It's not just great for serving but looks beautiful on your countertops holding citrus or other fruits.

The lightweight bamboo products from Bibol are pieces you'll want to keep for many years. Bibol makes kitchen products sustainably and with traditional Vietnamese methods.

Food safe: they can contain liquids, solids, hot (up to 158°F), and cold food.
Entirely handmade according to fair trade principles, our products may show slight variations in color or shapes as they are unique.
Dimension: 4"
Color: Matte White
- Handmade, hand wash!
- Use hot water, dish soap, rinse and wipe carefully after cleaning.
- Do not let the product soak in the water.
- Dry right away with a soft dish towel.
- Do not air dry and keep them away from a dishwasher and microwave.
- Lacquers and varnishes are natural as they are made without solvent nor organic volatile compounds.
Bibol designs and makes ecological products and craft bamboo. They are the only company with truly 100% natural, food-safe & handmade bamboo wares in Vietnam. Combining the tradition of Vietnam in bamboo spinning and ecological technics, they have developed a sustainable and fair-trade company.