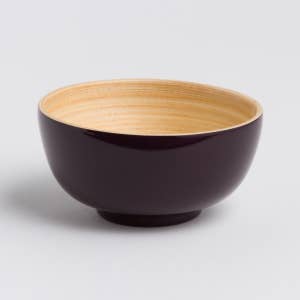 A bowl with a story to tell. Every item in your home should be purchased with intention, to create a personalized environment and a place where you enjoy each second of your day. A place to bring guests, where they can learn all there is to know about you without speaking a word.

The slow design style allows for a more unique, detailed and honest design process, and it's the ultimate expression of authenticity. What appears as a simple and delicate bowl placed upon your shelf actually has a story of its own. Its own uniqueness and its own history. By inviting it into your space, you become a part of the story and it allows for conversation about sustainable living, slow design, and honest intentions.

Bibol combines Vietnamese traditions and sustainable development to make minimal and one-of-a-kind bamboo kitchen products. They are the only company with truly 100% natural, food-safe & handmade bamboo wares in Vietnam. The care process for each bowl allows you to slow down and spend more time in the moment. The process is just as valuable as the food it holds.
Food safe: they can contain liquids, solids, hot (up to 158°F), and cold food.
Entirely handmade according to fair trade principles, our products may show slight variations in color or shapes as they are unique.
Dimensions: 5.5'' x 2.75"
Color: Glossy Plum
- Handmade, hand wash!
- Use hot water, dish soap, rinse and wipe carefully after cleaning.
- Do not let the product soak in the water.
- Dry right away with a soft dish towel.
- Do not air dry and keep them away from a dishwasher and microwave.
- Lacquers and varnishes are natural as they are made without solvent nor organic volatile compounds.
Bibol designs and makes ecological products and craft bamboo. They are the only company with truly 100% natural, food-safe & handmade bamboo wares in Vietnam. Combining the tradition of Vietnam in bamboo spinning and ecological technics, they have developed a sustainable and fair-trade company.